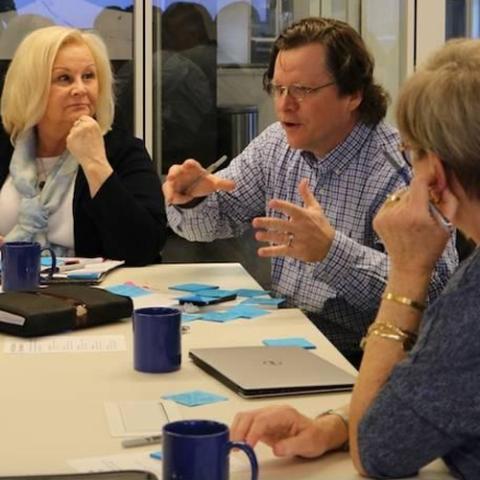 As posted at www.triplepundit.com 
By Kate Isaacs and Fred Keller
Several high-profile moments in corporate social responsibility marked recent months. Blackrock CEO Larry Fink urged portfolio CEOs to create social value along with financial value. Amazon, Berkshire Hathaway, and J.P. Morgan announced a new, independent health care company that will remain "free from profit-making incentives"—leveraging their corporate reach to offer low cost medical care to millions. Ed Stack, CEO of Dick's Sporting Goods permanently banned sales of assault-style weapons in company stores.
People are hungry for courageous corporate leadership. A recent APCO survey found that ninety percent of consumers expect brands to take a stand on issues affecting the world.
Beyond the big headlines, what can CEOs and their organizations do to really move the needle on complex, stubborn social problems: poverty and inequality, unemployment, health and healthcare inequities, and education disparities?
Talent 2025 Solves "Wicked" Complex Social Problems
 A powerful answer comes from a small-city, semi-rural region of West Michigan, where more than 100 CEOs have been working together for many years to elevate the prosperity of their community, in this generation and beyond. Talent 2025 CEOs partner with stakeholders in their community, including education, workforce development, government, and non-profits to tackle complex social challenges that no one of them can solve alone.
#1 Increase Literacy of the Future Workforce
Talent 2025's K-12 Barriers and Needs group believed elementary-level literacy would create positive ripple effects throughout a child's education and translate into better talent prospects for local employers. But as Autocam Medical CEO John Kennedy put it, "We're a bunch of CEOs. What do we know about education and literacy? Nothing." So, they worked with directly with educators.
The group discovered a reading program yielding success in a few Michigan charter schools in poor districts. Kennedy's family foundation funded a pilot, Sound Reading Framework, to train 50 teachers in three public schools. The outcomes were dramatic:
In a 5-week summer school session, students' reading improved by an average of 0.8 grade levels
Two years in, students in all the pilot schools test in the high 30s to low 40s in reading proficiency – up in some cases from scores as low as six to seven percent
They now plan to scale the effort to more schools, supported by local funding sources.
Says Kennedy, "We won't eliminate poverty, but we will dramatically improve the condition for all of the citizens in our area. And that is going to help make us a more competitive marketplace."
#2 Increase Diversity within Organizations
Diversity, Equity and Inclusion emerged as a fundamental need to attract, retain and promote people of color to the talent market. The resulting DE&I initiative has 58 of the CEOs on board to commit to a company self-assessment and to build a strategy to transform their businesses.  Nearly 400 people joined the first working session. With 12% of the workforce in the region represented by these CEOs, a "tipping point" is expected to accelerate the region toward its desired goal of being a draw for people of color.
#3 Build a Reliable Source for Talent Data
The K-12 Working group, led by the CEOs of Herman Miller, Autocam, and Trinity Health, sought to improve visibility of the local talent pool. Educators shared that training programs were being canceled because educators were using poor quality data about employer needs. For instance, educators believed regional demand for machine operators was declining when it was increasing.
The group now publishes an annual Talent Assessment and Outlook report on education and workforce development needs for West Michigan's 1.6 million inhabitants and a dashboard of regional educational, employment, and labor force metrics. This democratizes and de-stigmatizes community issues by creating a common base for stakeholders to own problems.
Why Talent 2025 Works
1) Gets Key Players in the Room – And Out of Their Silos "We don't delegate," says Kevin Stotts, President of Talent 2025, "All the leaders on the topic are in the room—CEOs, nonprofit and government leaders, change agents and subject matter experts."
2) Sets a Tone of Trust and Collaboration – These CEOs don't swoop in with answers; they explore problems and ask "we" questions that encourage people to own problems together.  Because their working group matches their passion, they show tremendous respect for the people working on the front lines.
3) Leans on Objective Data – Bringing in solid research on the regional issues that are larger than anyone's ability to solve alone makes discussions more pragmatic and productive and sets aside politics.
4) Develops Root Cause, Systemic Solutions – Many community change efforts are slow and inefficient, an endless studying of a problem rather than real change. Talent 2025 identifies the root cause and sets very specific goals to solve.
5) Applies Continuous Improvement – They continually evaluate efficacy of solutions and adjust accordingly.
Initiatives like Talent 2025 let CEOs do what they do well: convene partners and act as change agents. Their work yields better talent prospects, profound personal satisfaction, and greater health, and prosperity for their fellow citizens.
---
Fred Keller is chair and founder of  Cascade Engineering, one of the largest certified B Corps in the world. 
Dr. Kate Isaacs is an Executive Fellow at the Center for Higher Ambition Leadership and a Research Fellow at the MIT Sloan Leadership Center.
Photo: Talent 2025